Latest News
2014 Points After Race 9
July 31, 2014 - Points After Race 9 results have been posted on the Points page.

Points After Race 9


---
Spec Fuel for race at Circleville on July 27, 2014
July 23, 2014 - It was brought to my attention this evening that CRP no longer sells fuel at their track. During the last drivers meeting at NCMP, I informed everyone that they could purchase spec fuel at CRP, but this will no longer be an option. If you purchased enough fuel for this weekend while at G&J Kartway or NCMP, that will work fine. I will be available at G&J Kartway on Thursday evening from 5:00 to 8:00 to sell spec fuel to anyone who needs it for this weekend. I will also try to bring some fuel in my trailer to the track; however, it will be a limited supply. If you have any questions or problems, please contact me as soon as possible. Thanks, Ted (937) 855-6315


---
2014 Points After Race 8
July 22, 2014 - Points After Race 8 results have been posted on the Points page.

Points After Race 8


---
Announcement - New Castle Race - Track Configuration / Practice Schedule
July 16, 2014 - Please see the diagram below for the track configuration that we will be running at New Castle Motorsports Park this weekend. You will have the opportunity to practice this configuration on Saturday from 9:00 a.m. - 5:00 p.m. The track will be closing for practice at 5:00 p.m. due to a planned event at NCMP. We will follow our standard race day schedule on Sunday. If you have any questions, please contact Ted Cradlebaugh.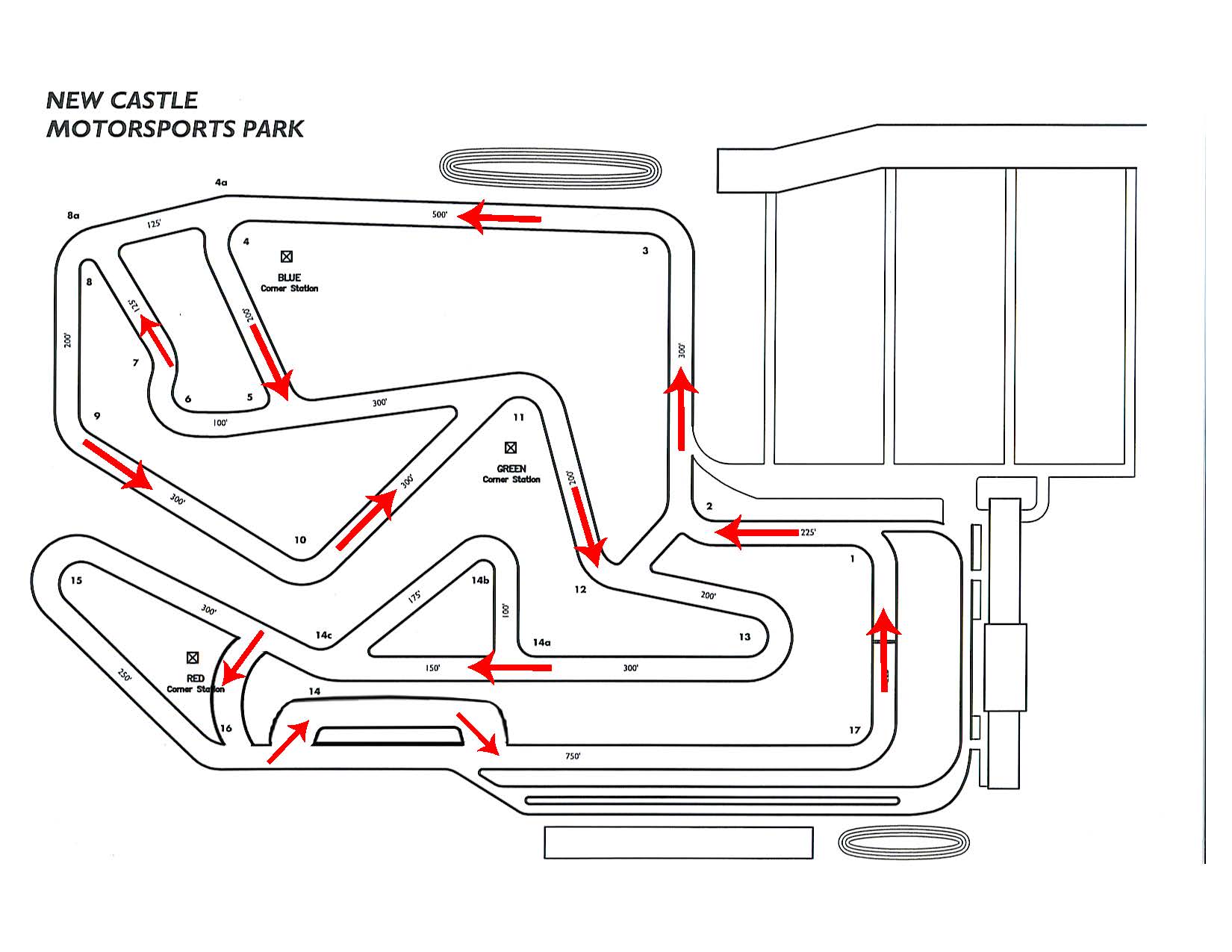 ---
VOLUNTEERS NEEDED – Lebanon Blues Festival – August 2, 2014
July 15, 2014 - The Ohio Valley Karting Association will be represented at the Lebanon Blues Festival again this year; however, the regularly scheduled workers have other commitments that weekend and are not available to work the OVKA booth that day. It is a one day show and we need at least four volunteers, but could use more. The Lebanon Blues Festival is a really good show with a lot of participation and it's a great opportunity to represent OVKA to the community with a prime booth space on the corner of the Car Show and the Food Corridor. You will earn a participation credit for each four hour shift that you work. OVKA will provide the booth, television, stand, tables, brochures, schedules, etc. If you have questions or are interested in representing OVKA at this show, please contact Ted Cradlebaugh or Lynda Coombs.

Setup:
Must be completed prior to the opening of the festival. You may begin setting up after 7:00 am when the streets are officially closed. If you are not setup by 10:30 am, you will not be permitted access to your booth space. No refund will be given.

Teardown:
You may begin tearing down your space at 11:00 pm when the festival is over. Vehicles are not permitted in the festival area until the last band has finished their set and the crowd has dispersed. If you want to tear down your space prior to this time, you may do so but you must carry everything to your vehicle outside the festival area for safety reasons.


---
Upcoming OVKA Events
OVKA Race #5
Saturday DAYTIME, August 8
G&J Kartway Camden, Ohio
Configuration 2C
OVKA Race #6
Sunday, August 9
G&J Kartway Camden, Ohio
Configuration 2B
OVKA Race #7
Saturday EVENING, August 22
G&J Kartway Camden, Ohio
Configuration 2A
OVKA Membership Board MeetingTuesday
, September 1 at 7:00pm
Due to COVID-19 Shelter in Place Order
This meeting will be held via Zoom.
To join via PC/Smart Phone:
Click Here
To Dial in: (312)626-6799
Meeting ID: 649 587 8039
Password: 2020
See Series Information/Schedule for event details.
---
Upcoming Events @ G&J Kartway
List of Upcoming Non-OVKA Events @ G&J Kartway.
Ohio Mini Road Racing League
August 15-16
Vintage Kart Series
August 27-29
For track availability please check out the website or call 937-452-1218
Official Website for G&J Kartway
http://www.gandjkartway.com
---
Other Upcoming Events
Buckeye Karting Challenge
Round 3 - August 14-16
Fremont Raceway
Fremont, OH
WKA Manufacturers Cup
Round 4 - October 2-4
Orlando Kart Center
Orlando, FL
---