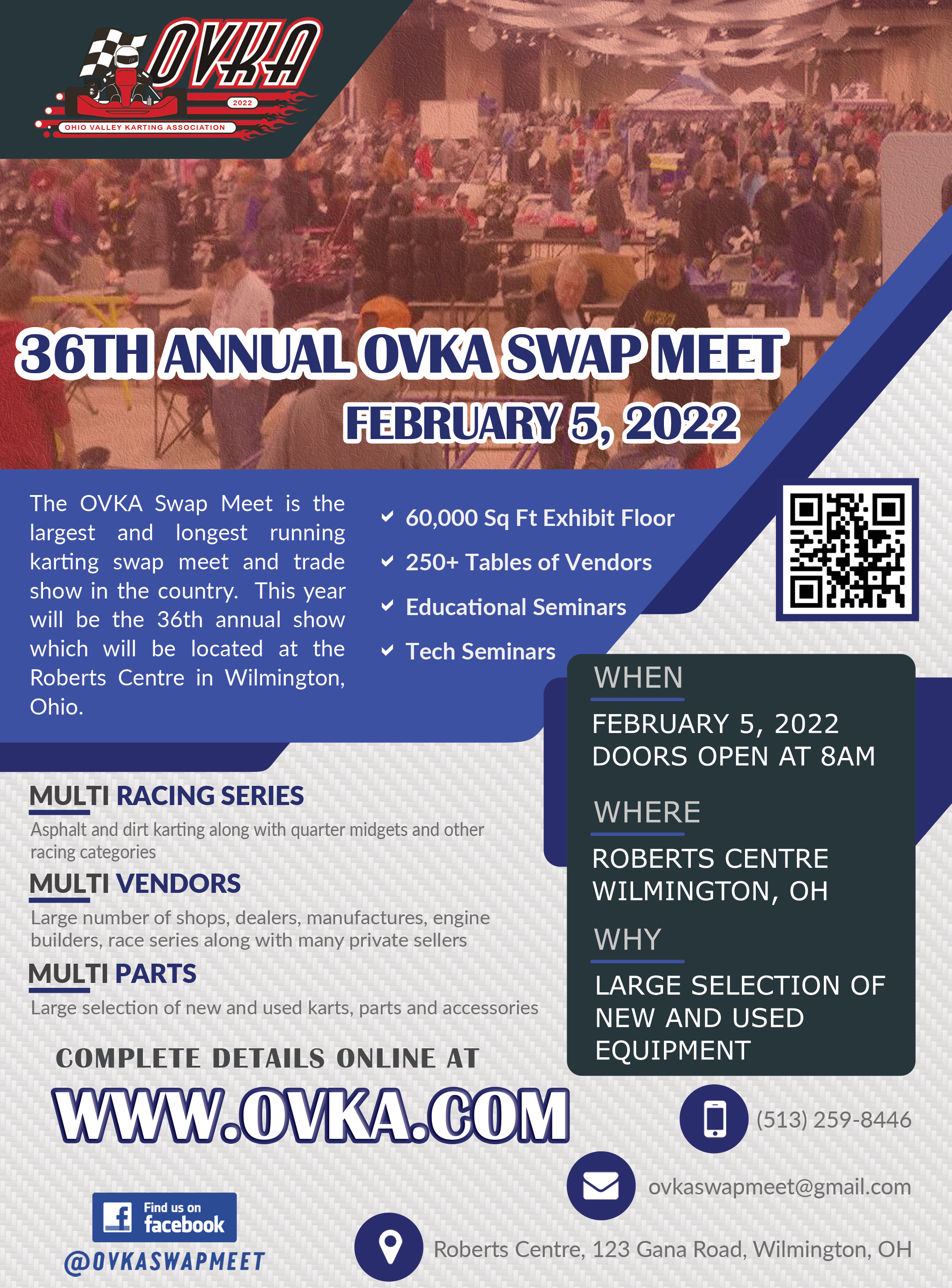 OVKA Swap Meet Contact
Scott Golladay
Phone: (513) 259-8446
Email: ovkaswapmeet@gmail.com
Other Swap Meet Contacts
Aaron Banfield
Josh Johnson
Mark Heber
Gary Osterholt
Bruce Wyke
Vendor Booth Map
The updated 2022 Vendor Booth Map will be available starting November 1, 2021.

Click Here for Full Map and Vendor List

Note - White Booths are Available.  Red Booths are Taken.  Roll over booth for more details.
Frequently Asked Questions
What's the cost to enter the show?  Admission is $15 for ages 12 & older. Ages 7 to 11 is $10. Under 6 accompanied by an adult are free.

Is the admission cost included in the booth? No, the admission fee is not included in the booth price.
Why are credit cards charged a 4% surcharge?  OVKA is a non-profit organization, to cover the charges for credit cards fees a 4% surcharge is applied to any and all credit card charges by OVKA.
What advantage is there for pre-registering for a booth? Reserving a booth ensures you get your previous booth location, end caps, electric, large runs of tables, etc.  New for 2022 is the single price for all booths, no more "Premium" booths.
How can I pre-register for a booth? The fastest and easiest way to pre-register is to fill out all the registration forms online at the OVKA Shop.  The second method is to fill out the Registration Form and mail to the address on the form.

When can I setup for the Swap Meet? Setup will be available Friday, the day before, from 2pm to 8pm. As well as the morning of the show for one hour from 7:00 am to 8:00 am.

When can I tear down my booth? The show is open until 4:00pm, which is when the tear down process of the booth can begin.

When is the show open to the public? The show is open to the public on February 5th, 2022 from 8:00am until 4:00pm.

Is there any place to stay nearby? There is a Holiday Inn connected to the Roberts Centre; you can contact them at 800-654-7036. Ask for the Ohio Valley Karting Association Swap Meet rate of $125 per night plus taxes when booking.

Is there any place to eat nearby? There is a very nice restaurant and bar inside the Holiday Inn as well a few restaurants nearby.