April 10, 2021
Race #1 Cancelled and Moved to Rain Date
OVKA Racers,
Looking at tomorrow's forecast, I don't see how we will get a race day in. Between the combination of 60-90% chance of rain plus the 14-20 MPH winds, I feel it's better to call the race tonight, and move it to our first weather date.
I look forward to seeing everyone at Race #2, on April 25.
Thanks,
Aaron - OVKA President
April 9, 2021
Karting 101 Update
Karters,
I am officially canceling the on track portion of Karting 101 for tomorrow, Saturday 4/10/21. With the weather forecast I do not believe we would be able to get enough track time to make it worthwhile for our members and guests. We will however be hosting the classroom session starting at 10 AM. If the weather does allow, people will be able to take to the track for practice, and we may run some informal race heats.
We will also have registration for Sunday's points race number one open from 9 AM till around noon. Anyone will be able to come in and complete the registration, get their tech forms and have their karts pre-teched ahead of the gates opening officially Sunday morning.
I have had several people ask me about Sunday's race. At this time I am confident we will be able to hold the race on Sunday. We will continue to monitor the forecast and make adjustments as necessary. If we make any further adjustments, it will be posted here on Facebook and also on the OVKA.com website.
As always, if you have questions, feel free to reach out to me. I look forward to seeing everyone at the track this weekend.
Thanks,
Aaron - OVKA President
April 3, 2021
April 2021 Meeting Agenda
March 26, 2021
March 2021 Board Meeting Minutes
March 1, 2021
March 2021 Meeting Agenda
February 16, 2021
February 2021 Board Meeting Minutes
February 14, 2021
2021 OVKA Schedule
The 2021 OVKA Schedule has been posted online.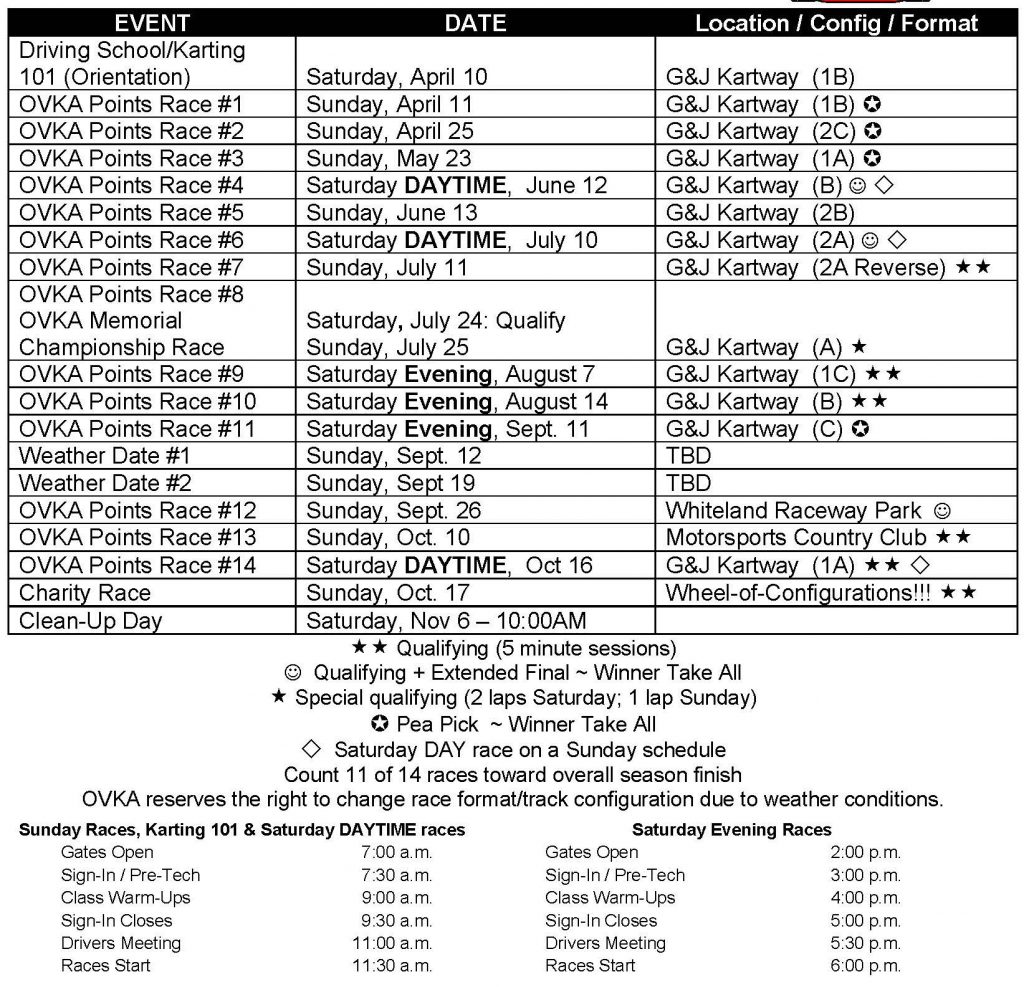 Download a Printable 2021 OVKA Schedule
February 14, 2021
Tire Contact Meeting
On Tuesday 2/16/2021 starting at 7pm OVKA will be hosting a call to discuss the evaluation process that will be used in the selection of the next tire contract. This meeting is a planning meeting and is open to all OVKA members. The call will be held via zoom to join via PC/Smart Phone: Click Here - To Dial in: (312) 626-6799 Meeting ID: 649 587 8039 Password: 2020
February 10, 2021
2021 OVKA Rulebook
The 2021 OVKA Rulebook has been posted online.
Click Here to view the rulebook.
January 30, 2021
February 2021 Meeting Agenda
January 28, 2021
January 2021 Board Meeting Minutes
January 20, 2021
2020 OVKA Banquet Update.
OVKA Members,
I wanted to take a minute and thank all the people that helped put together and make successful Saturday's distribution of prizes and awards. It was really good seeing a lot of our OVKA family, even as separated throughout the day as we were.
We have decided that for this year only, due to COVID-19, that any member who had earned an award for participation (running 7 races or more) that did not pick up their prizes will be allowed to pick them up by the end of the month. In order to pick up your prizes please contact me and schedule time. They will be available for pick (when scheduled) at Full Throttle Adrenaline Park, 11725 Commons Drive, Springdale OH 45246 during operating hours (as late as 10pm currently). Any awards/prizes that are not picked up by the end of the month will be donated back to the club and given away next year during the normal season.
If you have questions you can PM on Facebook or get all my contact information off https://ovka.com/contacts/.
Thanks again to all that helped make this year the success it was. I can't wait to see the entire OVKA family back out at the track soon!
Thanks,
Aaron Banfield - OVKA President
January 1, 2021
January 2021 Meeting Agenda
December 30, 2020
December 2020 Board Meeting Minutes
December 26, 2020
Announcement – Jeff Stafford