2018 OVKA Swap Meet
Download a Printable -
2018 OVKA Swap Meet Flyer
Download a Printable -
2018 OVKA Swap Meet Show Information and Registration Form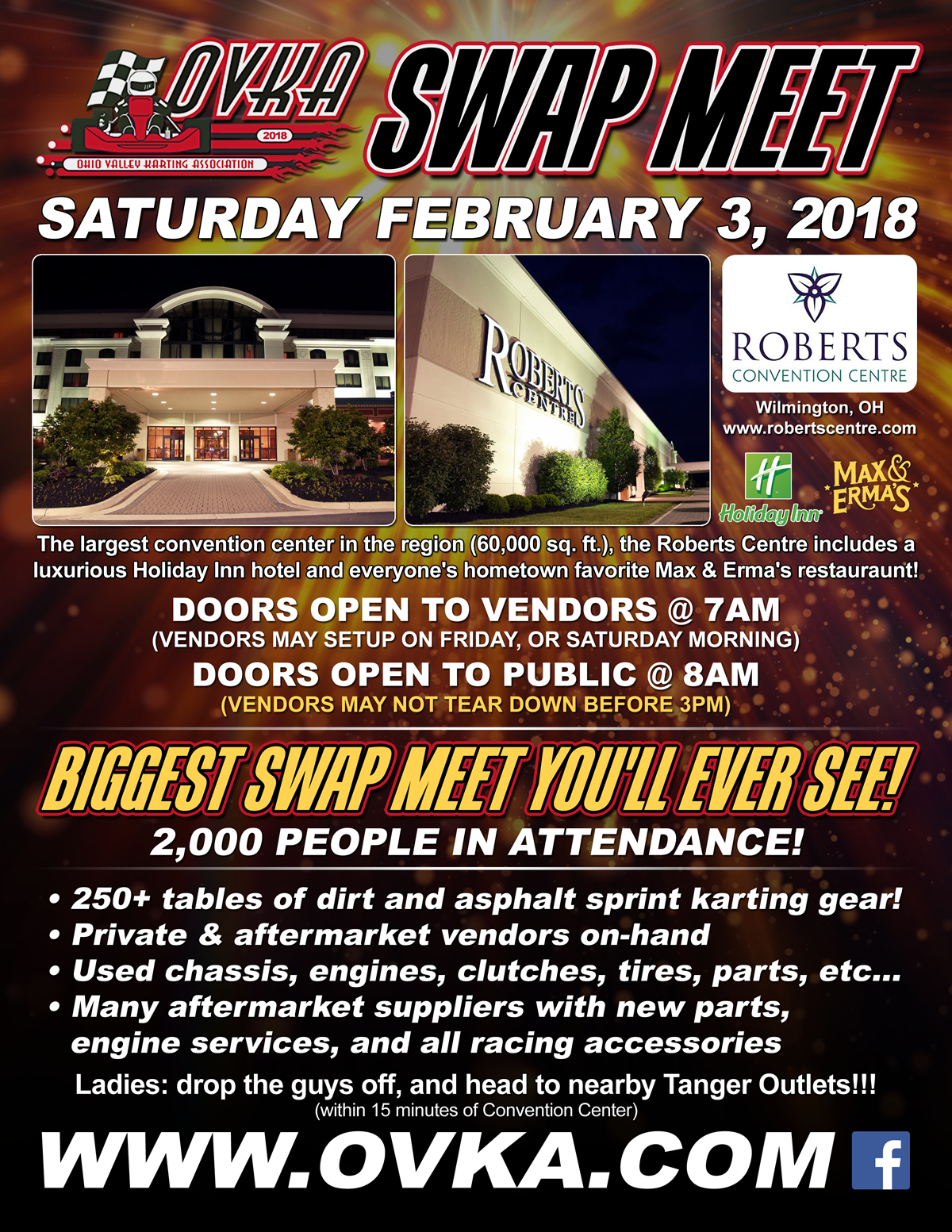 OVKA Swap Meet Contact
Doug Benson
Phone: (513) 885-8748
Email:
dougb1960@yahoo.com
Download a Printable -
2018 OVKA Swap Meet Flyer
Download a Printable -
2018 OVKA Swap Meet Show Information and Registration Form
Admission to the event is not included in the booth price.
Admission is $15 for ages 14 & older. Ages 6 to 13 is 10 dollars. Under 6 accompanied by an adult are free.
2018 OVKA Swap Meet Booths will be available the day of the show at the Roberts Centre, 123 Gano Road, Wilmington, Ohio 45177. See Doug Benson at the OVKA booth.
There are going to be three cash prize giveaways at the 2018 OVKA Swap Meet! A $200, a $300, and a $500 giveaway. All you have to do to have a chance to win is to be there! Purchase an admission armband and you are entered.
2018 Swap Meet Advertisers
Coming Soon
Upcoming OVKA Events
Spring Clean Up Day
Sunday, March 25th (Moved to Sunday)
G&J Kartway Camden, Ohio

OVKA Membership Board Meeting
Tuesday, April 3rd - 7:00pm
Hampton Inn
2880 Towne Blvd
Middletown, Ohio 45044

See Series Information/Schedule for event details.


---
Upcoming Events @ G&J Kartway
List of Upcoming Non-OVKA Events @ G&J Kartway. Call for Track Availability.

No Events Scheduled


---
Other Upcoming Events
Indy Circle Track Show
January 27th
Indiana State Fairgrounds
Indianapolis, Indiana

DARF Race Cars & Future Starts Expo
Friday - Sunday, March 9th-11th
Miami Valley Centre Mall, Piqua, Ohio

WKA Manufacturers Cup
Round 2 - March 23th-25th
Mooresville, NC


---