OVKA Membership Information
Do you want to Join OVKA or become a Sponsor of a Race, Class or have your Comapny Banner flying at raceday?
Click the links below to learn more about OVKA and download the membership application and sponsorship forms. All links on the right are in Adobe (pdf) format.
2018 OVKA Membership Application Form
2018 OVKA Pit Spot Reservation Form
Youth Sports Organizations Consussion Form
2018 OVKA Non-Attending Minor Release Form
2018 WKA Minor Release Form
OVKA By-Laws
(Version 05-03-11; Revised 08-14)
OVKA Schedule
Click Here
for the Current OVKA Schedule.
G & J Kartway Track Configurations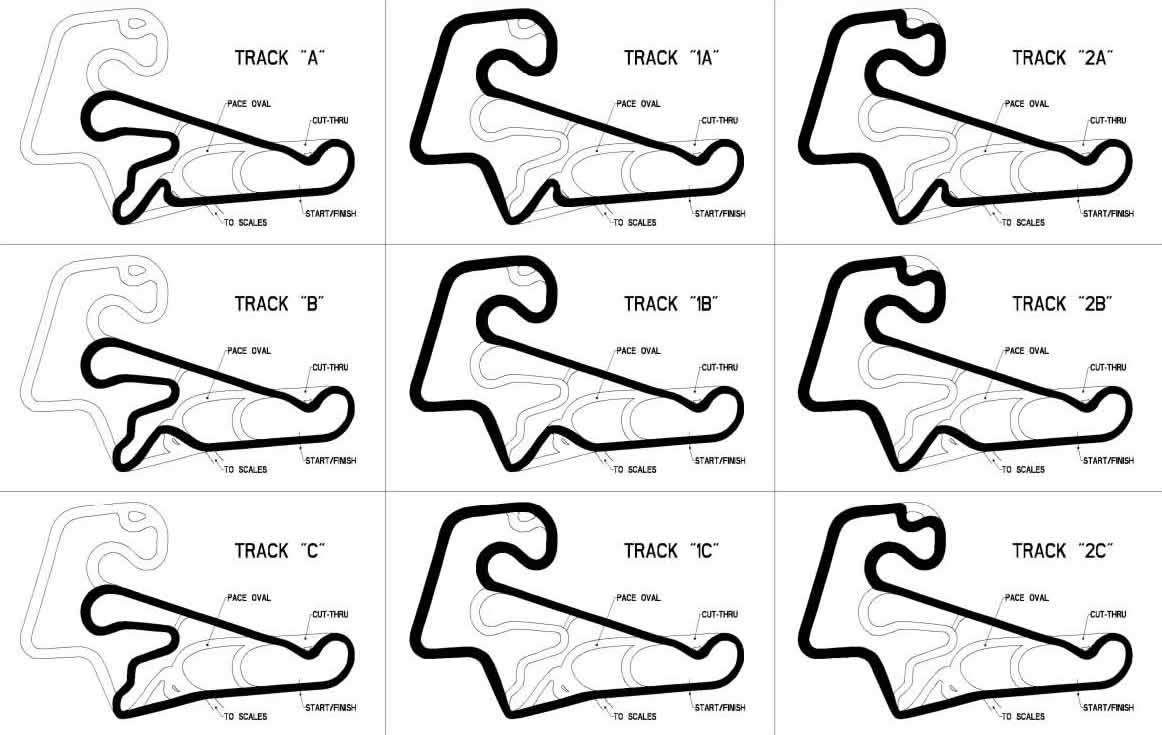 Download a Printable (Adobe PDF)
Track Configurations
.
OVKA Rules
Click Here
for the Current OVKA Rules.
OVKA Spec Fuel
Racing fuel with be available for sale every raceday at G&J Kartway. Check at OVKA registration on what brand and the price per gallon. Purchase your fuel upon registering and bring your fuel can and fuel tickets to the pump location at the north end of the pits (near the kart garages).
All 2-cycle participants, except Kid Karts and TaG, must use the spec fuel with (4) ounces of Burris Castor and (4) ounces of Burris Blend per gallon of fuel.
Kid Karts are required to purchase pre-mixed fuel from OVKA on race day.
TaG may run (8) ounces of Castor or Blend in place of the 4/4 ounce mix;
TaG Rotax may use Motul oil as per manufacturer's engine specifications.
All 4 cycle classes (LO206, 420 and Clones) must purchase 91 Octane Non-Ethanol from OVKA. -
Updated 6/7/17
OVKA Points
Click Here
for the Current OVKA Points.
OVKA Results
RaceLaps.com is the web site where you can find every one of your actual ran lap times, of every race you have entered. You can compaire your time with others in your class, print and save for future reference. This site is the third and final part of the OVKA timing system. Just click
here
to go directly to the
RaceLaps.com
web site. This is a free tool.
OVKA Class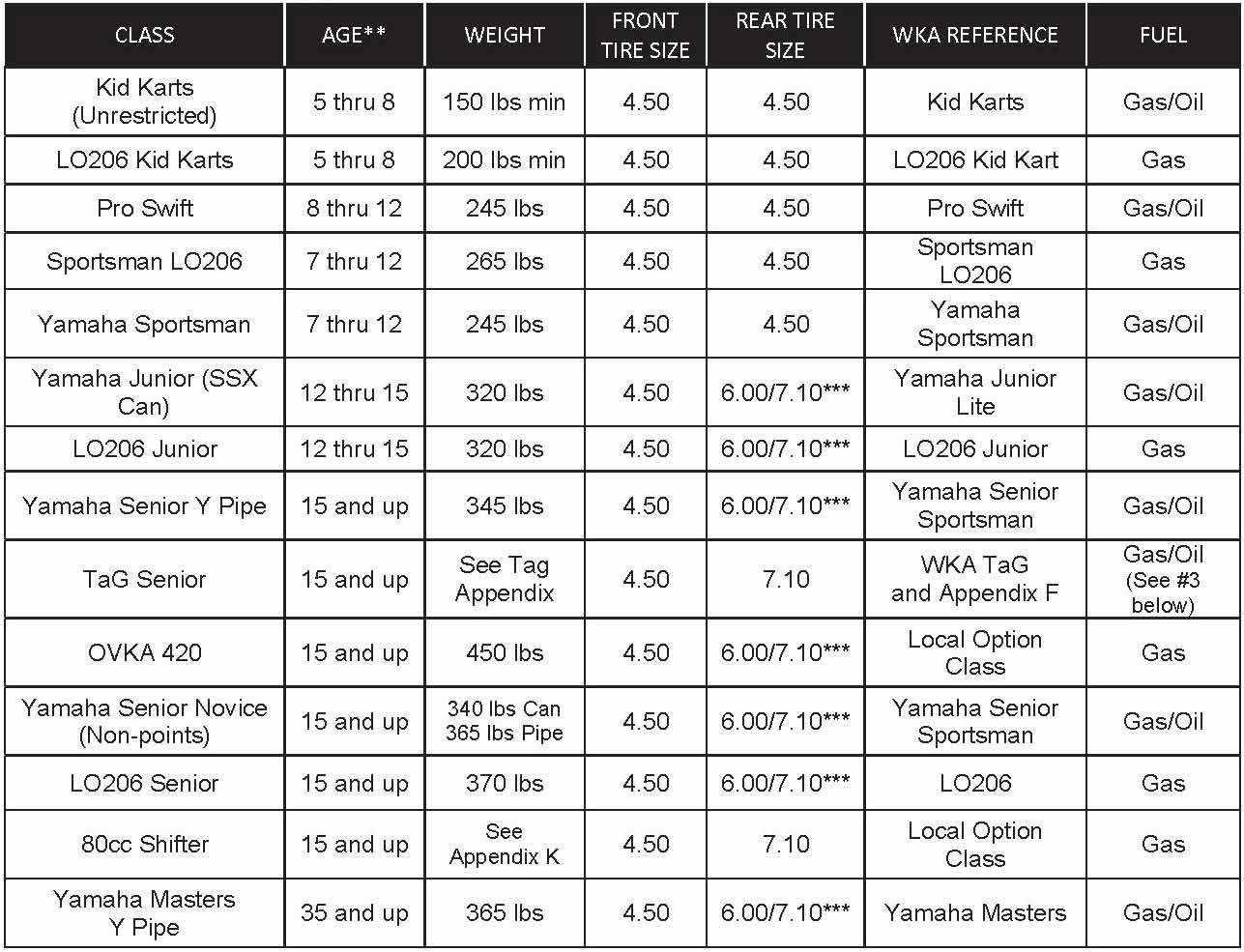 Download a Printable (Adobe PDF)
2018 OVKA Class Structure
OVKA Fees
Upon arrival at the track, and before the event begins. Each Driver must have a "Pre Tech" inspection of each kart, helmet and racing suit to be entered by onsite pre tech personnel, located near the grid area before any driving begins. If there is an issue during pre tech, the driver must correct the issue before receiving the signed pre tech form from the pre tech personnel.
After passing pre tech and receiving the signed form from pre tech. It must be filled out completely. Do not forget the pit pass number and the transponder number. Sign the back of the form, if the driver is a minor an adult must sign the appropriate area on the back before the form is complete. You may also choose to purchase various other items such as fuel. Just fill out the appropriate areas on the form for these items.
Now the form is complete and can be taken to the scoring tower to enter the class. Below are the fees for entering a kart in one (1) class. Payment can be cash or check. If you purchased fuel you will be given one (1) ticket per each gallon purchased. Take you fuel can and tickets to the fuel pump area located in the north end of the open pit area.
OVKA Members
$35 for driver's first kart class entry.
$30 for each additional kart class entry, entered by the same driver.
Non OVKA Members
$40 for driver's first kart class entry.
$35 for each additional kart class entry, entered by the same driver.
*See Rules page section 100 for more details
Practice Fees and Times at G&J Kartway
Track open daily from 9am to dark.
$10 per kart, $5 per extra driver.
Driver must have helmet, neck brace, jacket or suit, long pants, closed toe shoes, and gloves.
Stop at the front office to pay and sign release form.
Track will only be closed for practice if there is an event scheduled or repair is being performed.
**Fees and Available Practice Dates Subject to Change without notice, Please Call or Email G&J Kartway Ahead to Confirm Availability**
Pit Passes
Pit Passes (bracelets) are available for anyone who whishes to be in the pits or grid area during race day. This pass allows you to roam throughout the grounds and must me worn at all times on your wrist. It is purchased at the entrance gate for $10 per person. The gate closes at the beginning of heat 3, in which entry is free.
Transponders
OVKA has a limited number of Transponders available for rent. They are $10 per transponder per day. Mark you entry form accordingly.
Parking/Pit Spots
The OVKA pit spots at G&J Kartway are going fast!! Reserve your spot today. Click on the links to the right and select your desired spot. Then download the reservation form, fill it out and mail along with the required payment. You will enjoy being close to the action.
Any questions contact
Lee McCready
leemccready@aol.com
Forms
2018 Pit Spot Form
2018 Pit Spot Aerial Map
OVKA Open kart carrier parking is available to any team on a first come first serve basis. Most of these pit spots are located in the grassy areas. Teams should attempt to not take up 2 pit spots if it can be avoided. This is to make room for the carriers and teams pitting beside the selected spot. You may need to unhitch to not intrude on another pit spot (park your tow vehicle in the free parking area in the gravel drive). Best practice is to be considerate to the other teams. Reserved parking, are reserved pits spots and are marked with "RESERVED" on them, only the paid team is permitted to park there during the sponsored event. See the "Pit Spot" link for a reservation form and more information on reserve pit spots.
The individual OVKA away track's parking rules are in effect. See their web site and contacts for further details "
CRP
" & "
NCMP
".
Any other sanctioning body (WKA) or organization renting the track will institute their own rules and regulations in regards to parking. Please see those instructions provided by that sectioning body.
Free Seating
Spectator parking is available anywhere outside the open pit area or in the gravel area near the entrance gate building. This parking is free. There is a Free spectator bleacher located on the south side of the scoring tower. You can also walk on the outside of the fence at the south side of the track and get a view of the entire track and pit area. Additional spectator seating is available for the pit pass holders on the north side of the concession building. All pit passes must be wore on the wrist at all times.
Upcoming OVKA Events
OVKA Race #13
Sunday, September 9th
G&J Kartway Camden, Ohio
OVKA Race #14
Saturday Daytime, September 22nd
G&J Kartway Camden, Ohio
OVKA Race #9 Make-Up
Sunday, September 23rd
G&J Kartway Camden, Ohio
OVKA Charity Race
Saturday, September 29th
G&J Kartway Camden, Ohio
Clean-Up Day
Sunday, September 30th
G&J Kartway Camden, Ohio
OVKA Membership Board MeetingTuesday
, October 2nd - 7:00pm
Hampton Inn
2880 Towne Blvd
Middletown, Ohio 45044
See Series Information/Schedule for event details.
---
Upcoming Events @ G&J Kartway
List of Upcoming Non-OVKA Events @ G&J Kartway. Call 937-452-1218 for Track Availability.
Ohio Mini Road Racing League
September 15-16
Official Website for G&J Kartway
http://www.gandjkartway.com
---
Other Upcoming Events
WKA Manufacturers Cup
Round 5 - September 14-16
New Castle Motorsports Park
New Castle, IN
---