2020 OVKA Schedule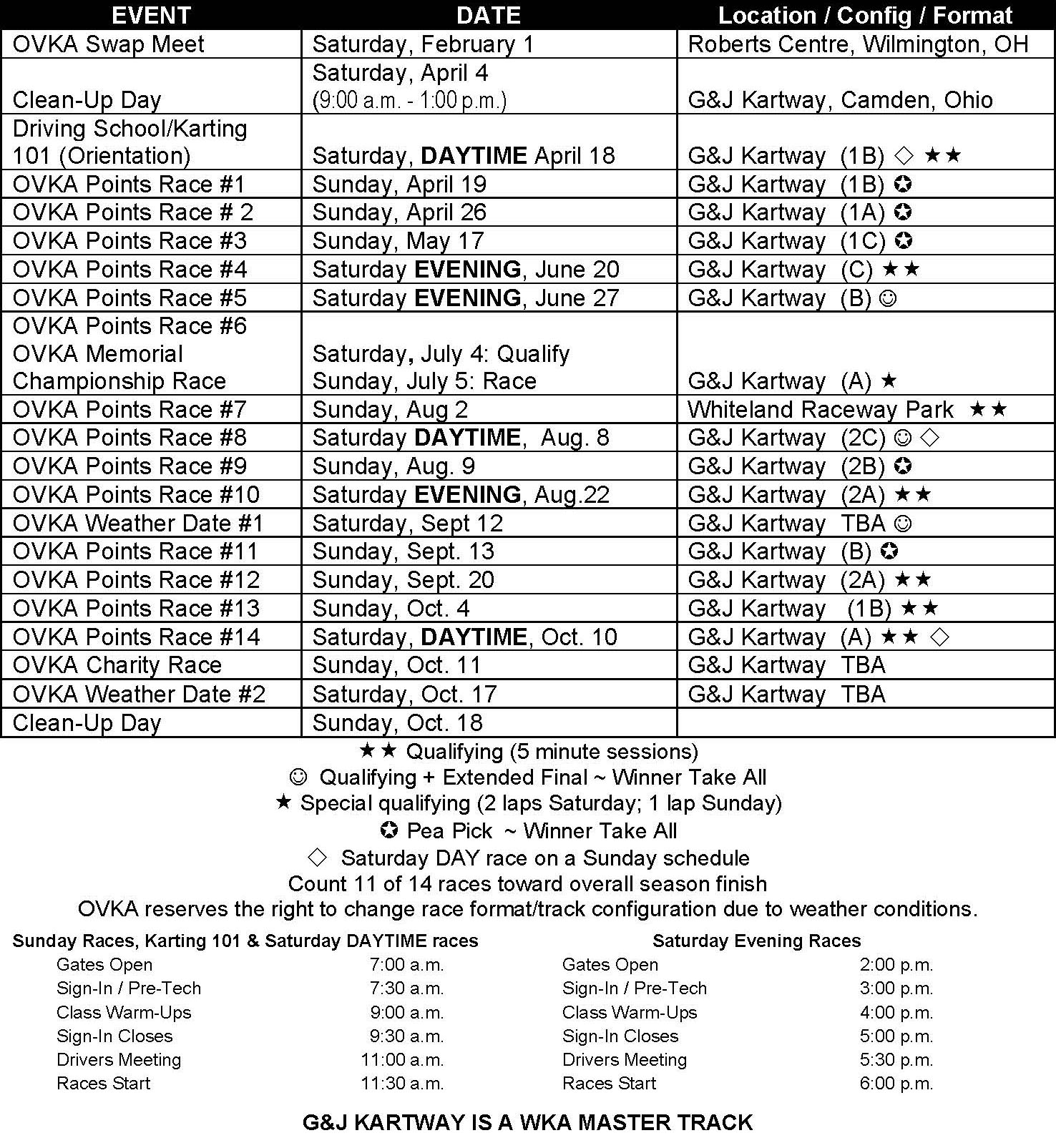 Download a Printable
2020 OVKA Schedule
Note - The G & J Kartway schedule may differ than the OVKA Schedule.
Click Here
for more information about G & J Kartway or visit the Official G & J Kartway website at
www.gandjkartway.com
.
Practice Fees and Times at G&J Kartway
Track open daily from 9am to dark.
$10 per kart, $5 per extra driver.
Driver must have helmet, neck brace, jacket or suit, long pants, closed toe shoes, and gloves.
Stop at the front office to pay and sign release form.
Track will only be closed for practice if there is an event scheduled or repair is being performed.
**Fees and Available Practice Dates Subject to Change without notice, Please Call or Email G&J Kartway Ahead to Confirm Availability**
Upcoming OVKA Events
OVKA Membership Board MeetingTuesday
, April 7 at 7:00pm
Due to COVID-19 Shelter in Place Order
This meeting will be held via Zoom.
To join via PC/Smart Phone:
https://zoom.us/j/937643778
To Dial in: (312)626-6799
Meeting ID: 937 643 778
See Series Information/Schedule for event details.
---
Upcoming Events @ G&J Kartway
List of Upcoming Non-OVKA Events @ G&J Kartway.
No Scheduled Events
For track availability please check out the website or call 937-452-1218
Official Website for G&J Kartway
http://www.gandjkartway.com
---
Other Upcoming Events
WKA Manufacturers Cup
Round 2 - April 17-19
Charlotte Motor Speedway
Concord, NC
---