Points After Race 9
August 21, 2011 - Points After Race 9 results have been posted on the Points page.

Points After Race 9


---
Points After Race 8
August 15, 2011 - Points After Race 8 results have been posted on the Points page.

Points After Race 8


---
Points After Race 7
August 13, 2011 - Points After Race 7 results have been posted on the Points page.

Points After Race 7


---
Dunlop Tire & Pit Spot Update
March 20, 2011 - From Jim Russell Jr.
Dunlop Kart Racing tire factory in Japan is fully operational. No production issues are expected at this time,our prayers for those affected by this tragedy.

A Note from the President of OVKA
If you are unable to obtain tires from local tire suppliers , please feel free to contact Russell Karting directly.

Reminder for All
All Reserved Pit Spot payments are due by April 1st.


---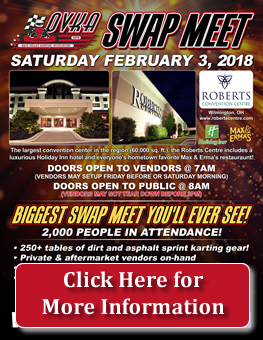 ---
Upcoming OVKA Events
OVKA Membership Board MeetingTuesday
, December 5th - 7:00pm
Hampton Inn
2880 Towne Blvd
Middletown, Ohio 45044
2018 OVKA Swap MeetSaturday
, February 3rd
Click Here For Information
See Series Information/Schedule for event details.
---
Upcoming Events @ G&J Kartway
List of Upcoming Non-OVKA Events @ G&J Kartway. Call for Track Availability.
No Events Scheduled
---
Other Upcoming Events
WKA Manufacturers Cup
Round 1 - December 27-30
Daytona, FL
---