March Board Meeting Minutes
March 27, 2020 - The March BOD minutes are now available. Click Here To View

View the Board Meeting Minutes page for more information.


---
OVKA - COVID-19 Update - 3/26/2020
March 26, 2020 - OVKA Family,

I hope that this message finds you all well in these troubling times. We have been tracking the Covid-19/Coronavirus situation closely and assessing the impact on our season. At this time, I have some updates to provide. Following guidance from State and Federal governmental agencies and in consultation with the Officers, race day staff, and the Board of Directors, I intend to cancel race 1 and 2 and move them to the weather dates. There is currently no provision in either our by-laws or rulebook that allow me to cancel a race this far in advance, however I am making it clear to our workers, racers, and others that I will be cancelling these events when that time arrives. I am doing this to ensure the safety of our racers, workers, and larger OVKA family. I am making this announcement now to give these same people as much notice as I can to adjust their plans.

We will be assessing the rest of the season as it approaches. It is my hope that we will be able to safely return to racing as early as possible, but the safety of people comes first and foremost.

Clean-up day as a single event will also be cancelled. We will be taking the work that needs to be completed prior to the season and breaking it into smaller jobs that teams of less than 8 can complete. These teams will schedule time to work at the track when others are not around, and proper safety steps can be followed. We will be posting these work opportunities on Facebook and the website as they become scheduled and our members can sign-up to participate. We will not be posting these until after the current Shelter in Place order is lifted.

Another change that we will be making is for our upcoming board meeting. We cannot hold the meeting at the traditional location and follow the guidance we have received. We will hold the next board meeting via Zoom conference call. This will allow any of our members and board members to participate. If the current Shelter in Place Order is lifted prior to the meeting I intend to offer 2 physical meeting spaces, at Full Throttle Indoor Karting, for those that may want to meet in person. I will be restricting each of these physical meeting spaces to 8 people or less. I will be posting the instructions to attend the Board meeting via Zoom on the OVKA.com website.

I appreciate all our members' support as we work through this unprecedented situation. We are making the best decisions we can make for the club as we go. I am always available to discuss concerns or ideas, please feel free to reach out to me. Lastly, but most importantly, if you or others in our club are in need, please let me know. We have an amazing racing family and often we have someone within the group that can help with so much. We need to stay positive, be safe, protect ourselves and the others we care so much for. We will get through this and life will resume. Don't feel like you are going through this alone.

Thanks,

Aaron Banfield
OVKA President


---
Tech Update - Highlighted and Clarified Rule Changes in 206 for 2020
March 1, 2020 - Security Seals:
Effective January 30, 2020 the only security seals that are legal have either a single black tracer wire with a reflective hologram seal or a red/black tracer wire with an orange housing seal. Plain cable seals are not approved for competition.

Spark Plug:
2020 is a transition year for the approved spark plug. The timing below is required to allow the retail channel to stock the new plug and ensure that all competitors can comply with the new specification.a.Through March 31, 2020: Only the B&S unaltered factory spark plug part number #555737 Champion RC12YC is permitted. Spark plug must have the "Champion" and Briggs & Stratton logo as well as the "RC12YC" identification on the insulator.b.After March 31, 2020: Only the AutoLite AR3910X unaltered OEM spark plug (B&S part number#84005196)is permitted. Spark plug must have the "AutoLite" and "AR3910X"identification on the insulator.

Clutch:
Sportsman, Junior 1, Junior 2, Senior, and Masters Classes must run one of the following clutches:1.Inferno Racing by Hilliard: Fire, Flame, Blaze or Fury2. Max-Torque: Draggin Skin or SS3. Noram/Premier: Magnum, GE, Ultimate or Stinger** NOTE: Noram/Premier Stinger must be converted to stamped drum (Noram P/N01600715) by May 5, 2020 to be legal for competition. Sprocket conversion drums/kits manufactured by Inferno by Hilliard,Max-Torque or Noram may be used. Sprocket conversion drums/kits from other manufacturers are prohibited. Refer to Page 20-24 for diagrams/photos of approved clutchese.Clutch or sprocket conversion drum/kit must be used as shipped from the original manufacturer–Inferno by Hilliard, Max-Torque or Noram. Mixing of parts between clutch lines, manufacturers or removing parts (i.e.; grease guard, etc.) is prohibited. No alteration or machining to the clutch allowed except light sanding to shoe and drum mating surface for maintenance. Interchangeable drivers (i.e.; 15T, 16T, etc) and driver configuration (#35 or 219), driver clip/lock, clutch key, and crankshaft fastener kit are non-tech. OEM springs and weights MUST remain unmodified,OEM but are a racer"s choice. Clutch coolers are not allowed. The use of aftermarket coatings is prohibited.

Exhaust Header:
Bolts or nuts must be safety wired to prohibit threads from backing out. If header bolts loosen during a race but the header remains attached to the head with two bolts/nuts, this is not grounds for disqualification.

Carburetor & Intake Manifold:
The fastener that attaches the carburetor to the intake manifold closest to the valve cover must remain stock as approved by the sanctioning body.

Rocker Cover Fasteners:
The rocker cover fastener closest to the carburetor must remain stock as approved by the sanctioning body.

Read More at https://www.briggsracing.com/latest-news/2020-briggs-stratton-206-us-rule-set-released


---
March Meeting Agenda
February 25, 2020 - Click Here to View the upcoming board meeting agenda.


---
February Board Meeting Minutes
February 19, 2020 - The February BOD minutes are now available. Click Here To View

View the Board Meeting Minutes page for more information.


---
Official 2020 OVKA Schedule
February 7, 2020 - The 2020 OVKA Schedule has been posted online.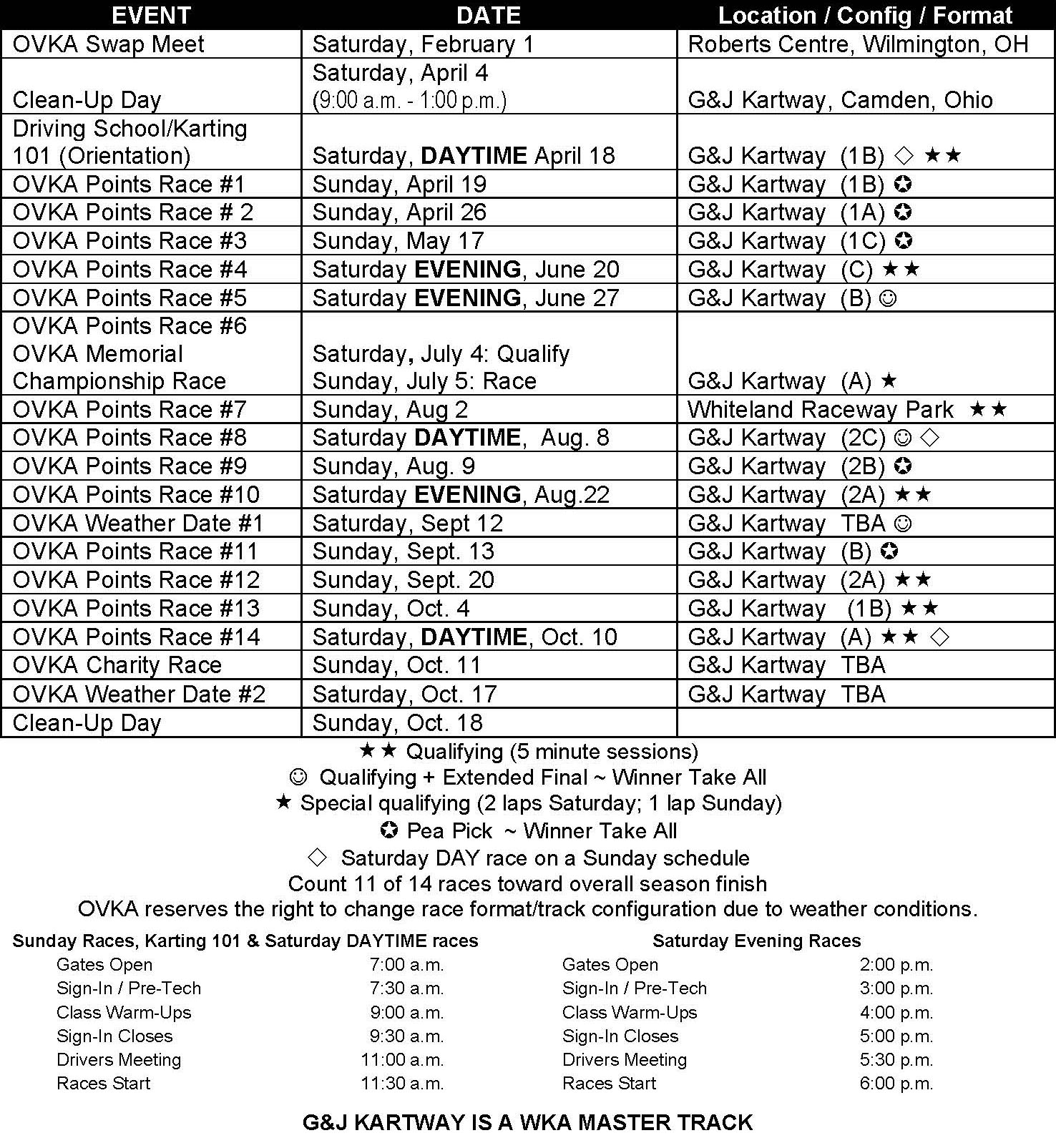 Download a Printable 2020 OVKA Schedule


---
2020 OVKA Rulebook
February 7, 2020 - The 2020 OVKA Rulebook has been posted online.

Click Here to view the rulebook.


---
February Meeting Agenda
January 30, 2020 - Click Here to View the upcoming board meeting agenda.


---
January General Membership Meeting Minutes
January 23, 2020 - The January General Membership Meeting minutes are now available. Click Here To View

View the Board Meeting Minutes page for more information.


---
TENTATIVE 2020 OVKA Schedule
January 15, 2020 - OVKA, I am happy to be able to share the tentative 2020 OVKA schedule. There were a lot of factors that played into the schedule, including other race series, graduations, typical Ohio/Indiana weather, and more. I wanted to get the dates out to our members as soon as we got the dates confirmed from the tracks we are planning on racing at. It is my intent to have OVKA race at G&J Kartway and a single travel date to Whiteland Raceway Park for the 2020 season. I will post a final schedule that will include the tracks and configurations as soon as I have the final details confirmed. Thanks, and I look forward to seeing everyone at the track! Thanks, Aaron Banfield


---
December Board Meeting Minutes
December 15, 2019 - The December BOD minutes are now available. Click Here To View

View the Board Meeting Minutes page for more information.


---
2020 OVKA Spec Tire Announcement
December 2, 2019 - Ohio Valley Karting Association is proud to announce Margay Racing sponsorship for the 2020 race season. During the upcoming 2020 racing season racers will have two options concerning tire choices. First the Bridgestone YLC is an approved spec tire for one more year during the 2020 season. Secondly spec Hoosier tires have also been added as an approved tire. Specifically the Hoosier R60B has been selected as the spec tire compound for all classes with the exception of the TAG Sr. class. The TAG Sr. class which will also have the option of selecting the Hoosier R55 tire compound. In summary for the 2020 OVKA season racers will have the option of running either the Bridgestone spec tire or the Hoosier spec tire. Starting with the 2021 season the only Spec Tire brand will be the Hoosiers. Questions can be directed to any member on the board of directors. Thank you Margay Racing for your continuing support of the OVKA racing series.


---
December Meeting Agenda
November 29, 2019 - Click Here to View the upcoming board meeting agenda.


---
November Board Meeting Minutes
November 24, 2019 - The November BOD minutes are now available. Click Here To View

View the Board Meeting Minutes page for more information.


---
2020 Annual Membership Letter & Forms
November 10, 2019 - 2020 Annual Membership Letter

2019 Banquet Registration Form
2019 Year End Participation

2020 Membership Forms
2020 OVKA Membership Application Form
Youth Sports Organizations Consussion Form
2020 OVKA Non-Attending Minor Release Form
2020 WKA Minor Release Form

2020 Pit Spot Forms
2020 OVKA Pit Spot Reservation Form


---
Upcoming OVKA Events
OVKA Membership Board MeetingTuesday
, April 7 at 7:00pm
Due to COVID-19 Shelter in Place Order
This meeting will be held via Zoom.
To join via PC/Smart Phone:
https://zoom.us/j/937643778
To Dial in: (312)626-6799
Meeting ID: 937 643 778
See Series Information/Schedule for event details.
---
Upcoming Events @ G&J Kartway
List of Upcoming Non-OVKA Events @ G&J Kartway.
No Scheduled Events
For track availability please check out the website or call 937-452-1218
Official Website for G&J Kartway
http://www.gandjkartway.com
---
Other Upcoming Events
WKA Manufacturers Cup
Round 2 - April 17-19
Charlotte Motor Speedway
Concord, NC
---