About OVKA
The Ohio Valley Karting Association (OVKA) is a volunteer run organization founded in 1964. Our mission is to grow the sport of karting, by hosting races in a family friendly environment, and through our various promotional and charitable programs.
Our membership comes mostly from the Cincinnati and Dayton, Ohio. OVKA does attract racers from as far away as Michigan, Illinois, Kentucky, and Indiana to compete against some of the best racers in the country.
OVKA currently promotes 14 points races including the mid-season Memorial Champ Race that count toward our season Championship. In addition to the non-points Karting 101 and the yearend Charity Race.
OVKA offers numerous classes, based on age, weight, and engine package.
For the 2018 season all of our races are held at G&J Kartway in Camden Ohio. G&J Kartway opened 2 years before OVKA was founded. As a WKA master track, G&J has hosted numerous National and Regional events over the years.
If you have questions about getting involved in the sport of karting, come to an OVKA event or call an OVKA board member located close to your home. We would be happy to help you with any questions on karting. Please click on the Contacts link for a full list of officers and board members.
OVKA Tracks
G&J Kartway
Located among the cornfields and pastures of Southwestern Ohio lies a WKA Master Track known as G & J Kartway. The track entrance is marked by the silos used by Barnets Inc. which is owned and operated by track owner Gary Gregg. G & J Kartway is the Home of OVKA.
Address: 1619 Barnetts Mill Rd, Camden, OH 45311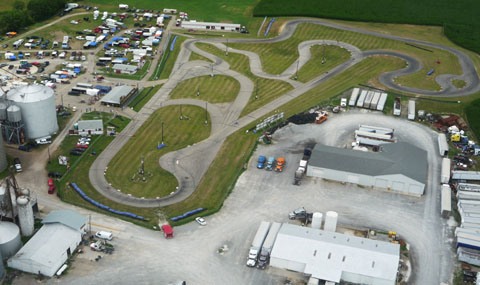 Click Here
to visit the Official Track Website. Note - The G & J Kartway schedule may differ than the OVKA Schedule as G&J Kartway host events for other associations from time to time.
Upcoming OVKA Events
OVKA Race #11
Sunday, October 4
G&J Kartway Camden, Ohio
Configuration 1B
OVKA Membership Board MeetingTuesday
, October 6 at 7:00pm
Due to COVID-19 Shelter in Place Order
This meeting will be held via Zoom.
To join via PC/Smart Phone:
Click Here
To Dial in: (312)626-6799
Meeting ID: 649 587 8039
Password: 2020
OVKA Race #12
Saturday,
DAYTIME
October 10
G&J Kartway Camden, Ohio
Configuration A
OVKA Charity Race
Sunday, October 11
G&J Kartway Camden, Ohio
Configuration TBA
OVKA Race #13
Saturday,
DAYTIME
October 17
G&J Kartway Camden, Ohio
Configuration C
See Series Information/Schedule for event details.
---
Upcoming Events @ G&J Kartway
List of Upcoming Non-OVKA Events @ G&J Kartway.
No Bull Pulling - Lawn Tractor Pull
September 26
For track availability please check out the website or call 937-452-1218
Official Website for G&J Kartway
http://www.gandjkartway.com
---
Other Upcoming Events
Buckeye Karting Challenge
Round 5 - September 25-27
Circleville Raceway Park
Circleville, OH
WKA Manufacturers Cup
Round 4 - October 2-4
Orlando Kart Center
Orlando, FL
---